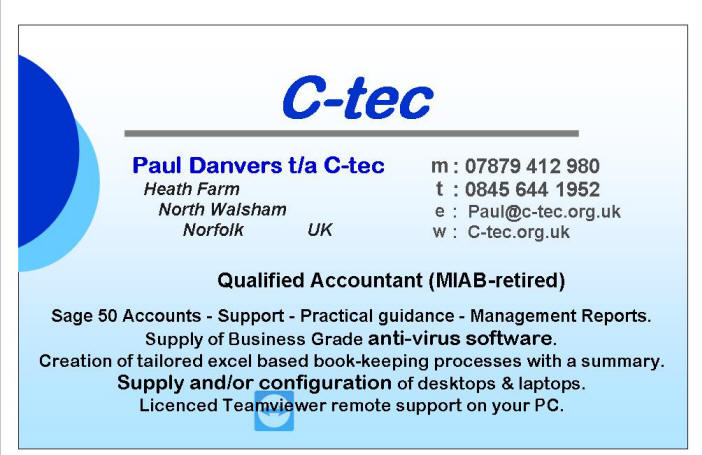 Remote Support Request
This Page provides information relative to remote support.
1) Call 0845 644 1952 and ask for the support section - If not currently available just leave your name and phone number - we will get back to you as soon as possible (or e-mail to request a pre-booked session).
(

and please be sure to include your contact details)
2) The support is provided via an internet utility which means that you will need to be able to connect to the web.
3) Support is provided to cover the following areas :-
For the initial configuration of the Sage to Excel date links
Sage 50 Accounts – All Areas + plus data manipulation and creation of special reports based on the data held within your Sage Database.
Office Technical issues and "How to's"
New to Sage Accounts - Then let us help get you started (tailor Sage to suit your business + identify & enter your opening balances + Show you how Sage can help you + design/create the reports which do not come as standard!)
Procedure and best practice guidance for users of Sage products
4) Fees - For the first ½ hour (or part of the first ½ hour) ~ F.O.C.
5) Fees - For the first ½ hour (or part of the first ½ hour) £15.00 payable at the start of the support session.
5) After the first ½ hour - we will give you an estimate of time scale and rate to achieve that which you identify as an area where assistance is required. If you then request further work your £15.00 is taken as a deposit on these tasks making the first session F.O.C.
6) First Payment - Via Paypal to Paul@C-tec.org.uk or bank transfer ~~and then will be by Bank transfer or cheque against invoice(s) provided
7) Liability - We only accept liability for negligence claims to a total of the invoice to you less our remote connection cost (£10.00) - If you are not willing to accept these conditions you will not use this emergency help or general support service.
8) The software routine used to provide this service is a fully licensed copy of teamviewer with a small temporary module downloaded to your computer at the start of a support session and then automatically deleted when the session is closed. You have total control of the service and must allow the actions requested in order for any thing to be done. The web based connection is secure and cannot be viewed other than on the my support computer and your client computer.
9) To initiate the remote support session you will need to download and run > Remote support Link <
---