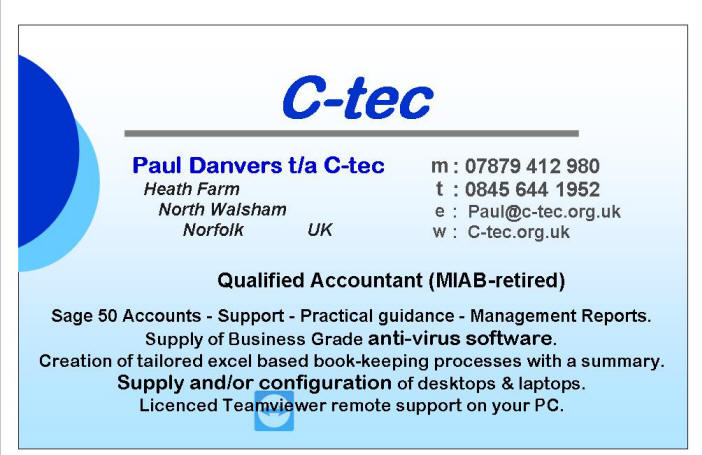 ---
C-tec provides Accountancy & computing solutions to Small and Medium Business mainly in North Norfolk, however, the use of remote support now allows our service to be available in other parts of the country.
---
Firstly and probably most important is what we do -

One speciality is to provide processes which will convert your Sage Data to a format which will give Monthly Statistics, Management Reports, Customer and Supplier Activity summaries, all of which, provide significant opportunities to improve the performance and profitability of your business.

We also can provide introduction to Sage 50 Accounts and other Sage products with an appreciation of what is the correct accounting package for use in your organisation. When this decision had been made the next stage is the installation, configuration or just tailoring of this package to meet your requirements may be what is most beneficial.

In Sage Accounts, areas to consider include –

1)

Invoice, Customer Statement, Remittance tailored to meet legislative requirements and branded to your organisation probably by adding your logo.

2)

The descriptive structure of your accounts is contained in the Nominal Ledger which will require modification to remove potentially inappropriate items and to add narratives which relate accurately to your activities.

3)

Creation of the customer and supplier records with which you already trade.

4)

If other options within Sage are planned e.g. Project Costing or Product records are planned then this is the right point to determine the process and configure the necessary elements within Sage.

5)

VAT if you are registered, is another item which needs inclusion or exclusion as appropriate.

Smaller businesses may not warrant the expense or complication of a Sage 50 Accounts package so we can also provide an excel worksheet configured to record your business activity with sufficient detail to provide the essentials of the records required to enable the completion the figures required for TAX and 'cash control'.
---
My reasoning - our service
Our client may want just to be guided on a particular action or may want all the accounting and payroll processed with a minimum of personal input. This is a wide range of different processes so please call to explore what C-tec can provide.
The objective of modern accounting packages is to provide an efficient accounting, reporting and method for production of legally required data (e.g. VAT Return)
, BUT the standard package is sold as the best solution to every organisation's needs.
A brilliant idea which needs both IT experienced and experienced accountants advice and guidance to tailor software and procedures to individual requirements.
There are now numerous levels in the Sage Accounts range of products and various utilities which access Sage data to provide reporting and control information which, for those not accustomed to the processes and compliance regulations, may generate incorrect or no usable information.
Help is available / provided purely because some guidance will update, correct, and, speed up your processes.
---
Contact Information

C-tec is based in North Norfolk

Primary contact

Paul Danvers on 07879 412 980

Office Telephone

Office on 0845 644 1952

Location

Near >> North Walsham

North Norfolk, UK

E-mail

---
C-tec Website is hosted on www.77777.co.uk
C-tec Site last updated on 30/04/2020 19:20