WWW.77777.co.uk
---
SAILING 2011
Each Autumn a number of yachts compete in the hire boat sailing regatta on Barton Broad. Over 30 yachts can take part in this event which includes a series of races in the beautiful surroundings of Barton Broad and a programme of social events covering 3 evenings, culminating in the Regatta dinner and prize-giving.
Racing
The regatta is a long established and highly popular event, providing the opportunity for competitive sailing and great company. Participants require a reasonable level of sailing ability, with confidence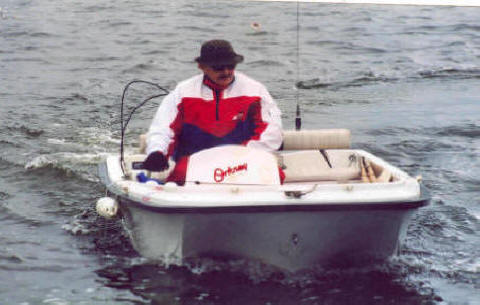 to handle a yacht in company with others.
My interest is the chance to get a break from everything else and this is brilliant for the photo's which follow and my love of small boats and the opportunity to help (rescue!) the friends who take part.
I have taken my little boat on to the broads every year for over 20 years.
---
Next - if you would like a copy of any of the pictures - Right click and get the file name from properties - for example DSCF1234.jpg - Then e-mail me and I will send you a copy of the original file (Each one is approx 2.5mb so will only get 2 files per e-mail but I will send as many as you request) The Web pictures are much smaller so that the pages will display reasonably quickly
Sunday some practice was gained by a few boats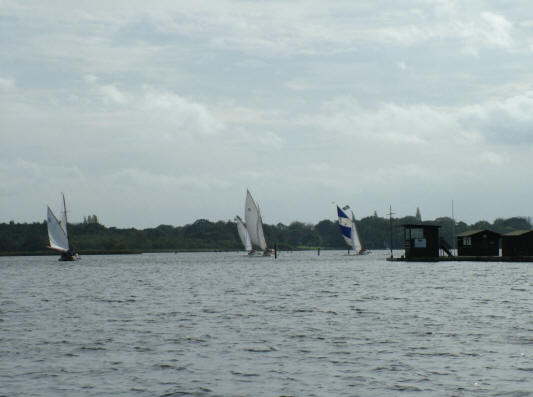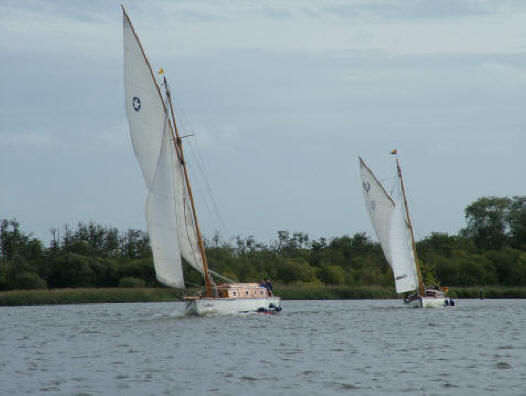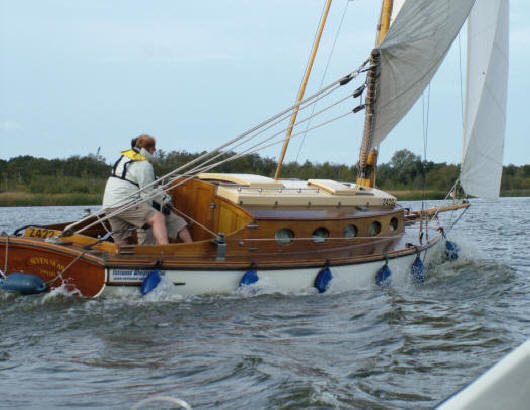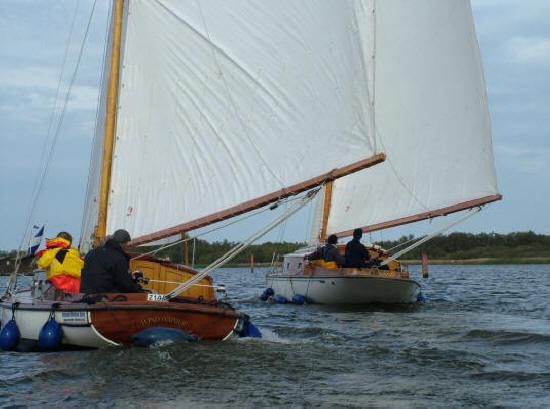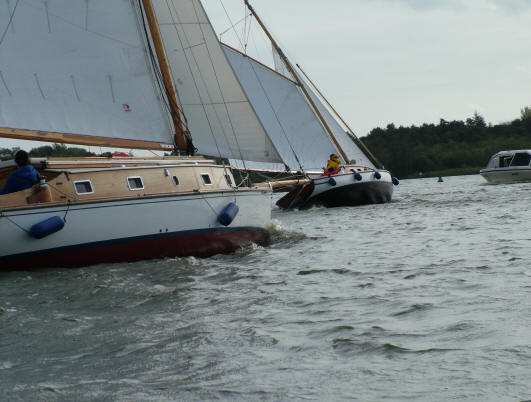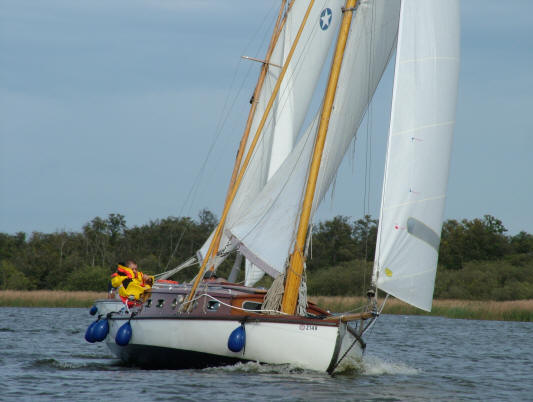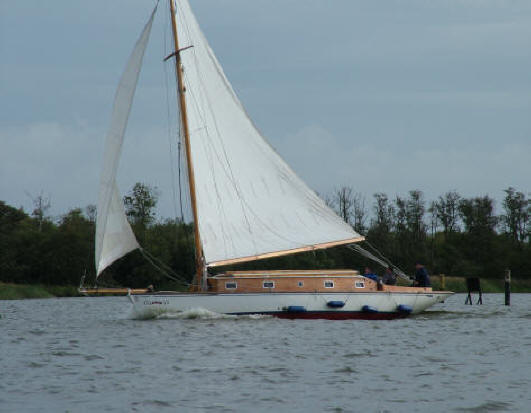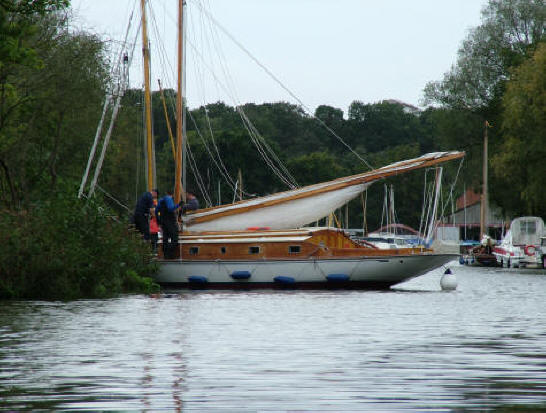 ---
Monday
So windy that first race was delayed then all sailing was cancelled at at mid-day ~~~~ felt to be too dangerous. I went fishing on the river north of the broad - caught 2 good sized perch and and the full possible range of sizes of roach - about 40 fish in 2 hours! Most annoying as kept interrupting my lunch.
---
Tuesday
A day which started with strong winds - 2 reefs and then as wind died reefs reduced with only light winds at the end of the day for the 4th race - Starting with the good action shots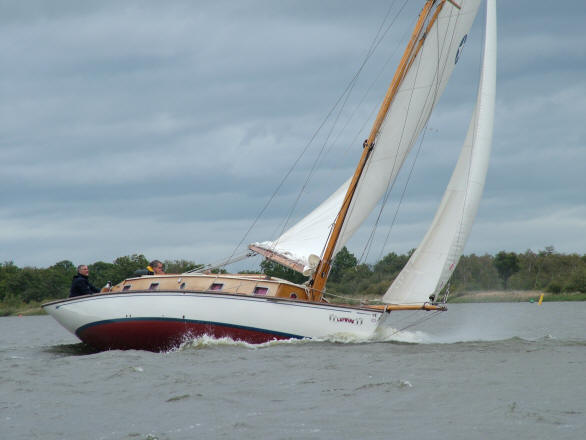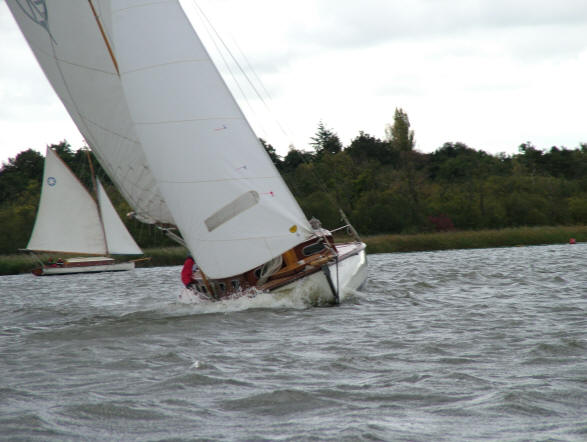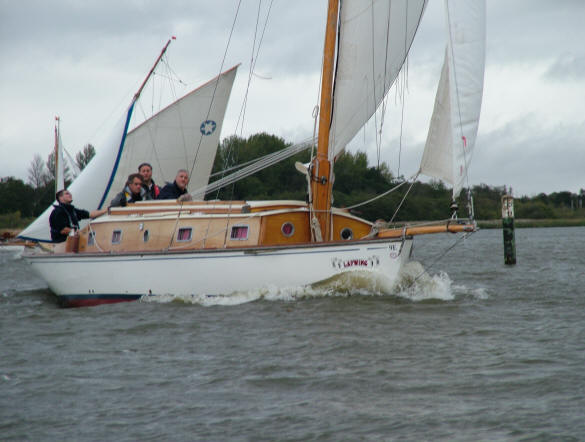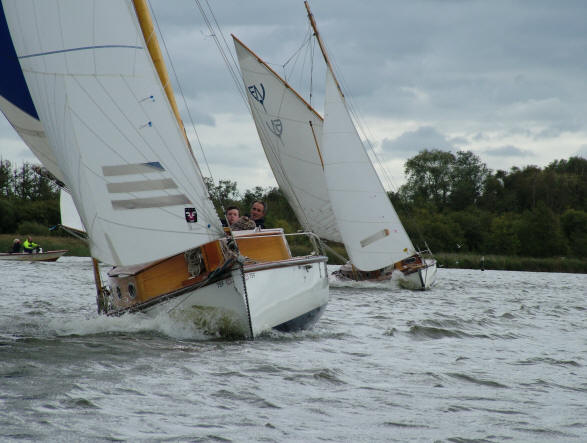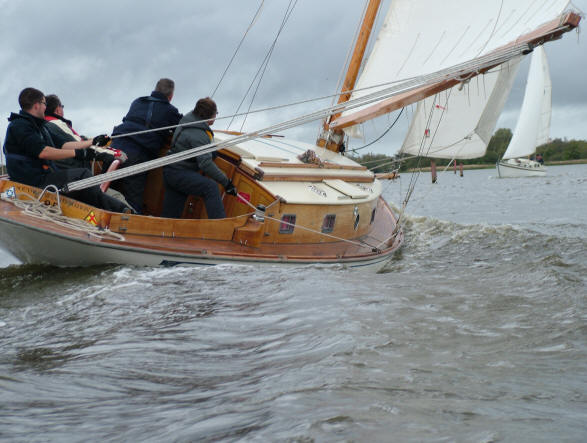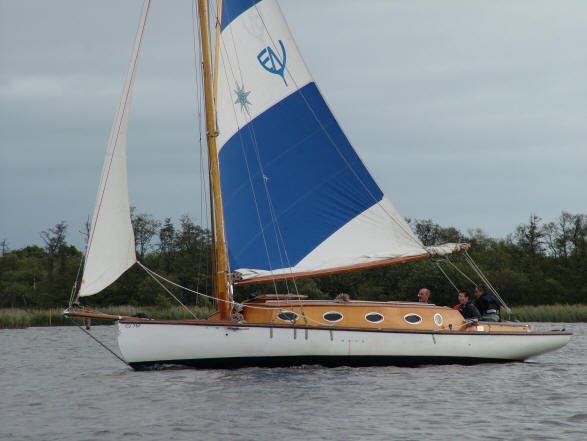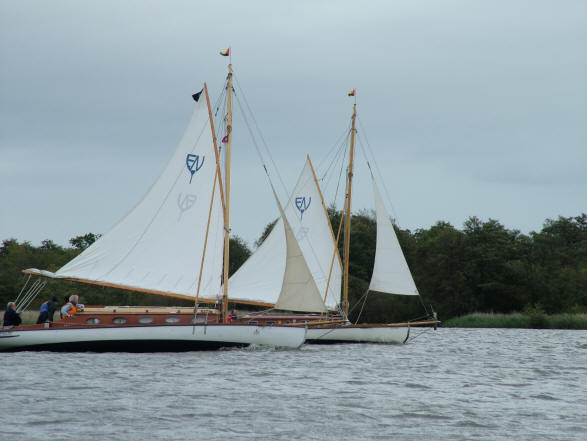 Next is a set of pictures showing the broad at the start of Tuesday >>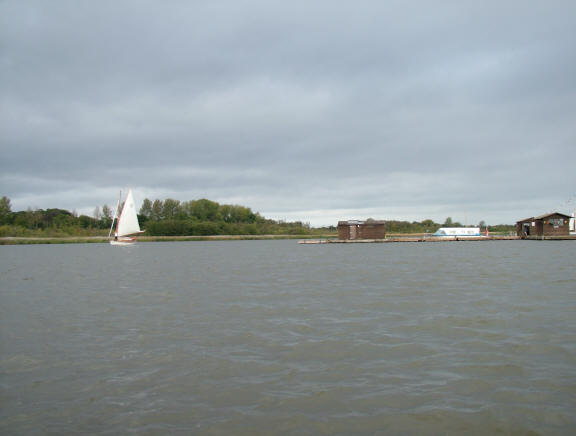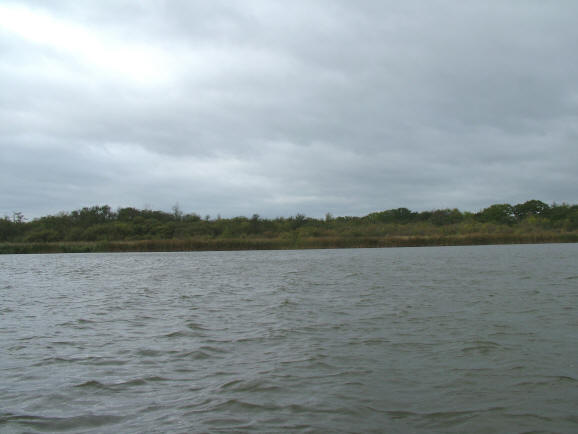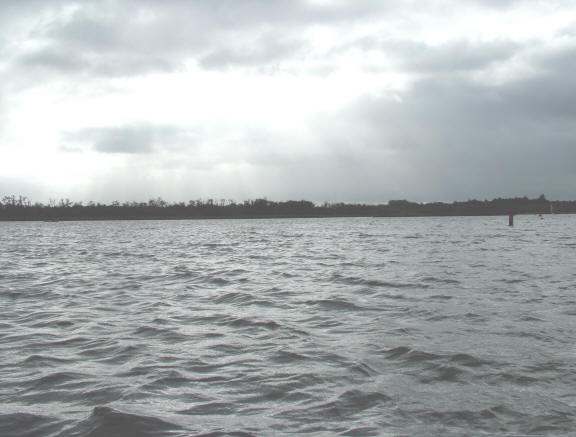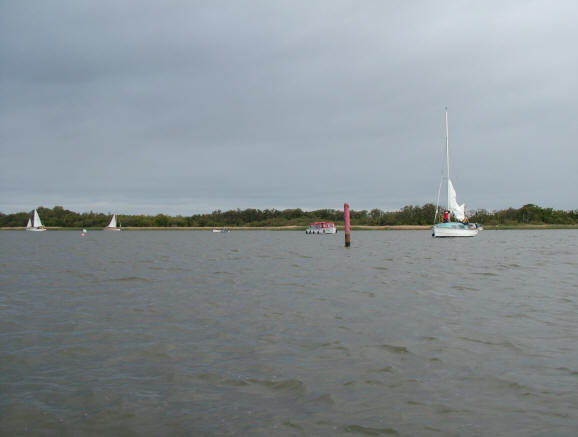 And next the photo proof that each boat did pass the Neatishead Bouy >>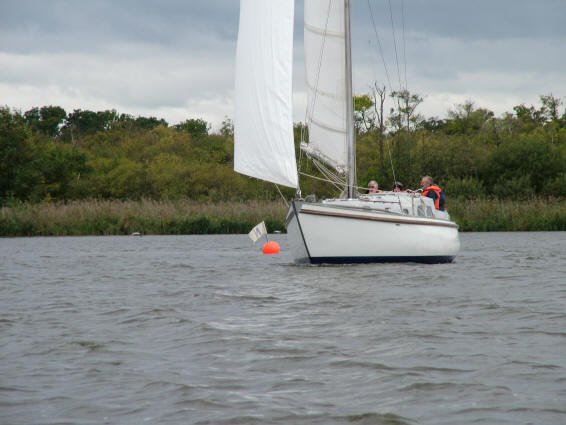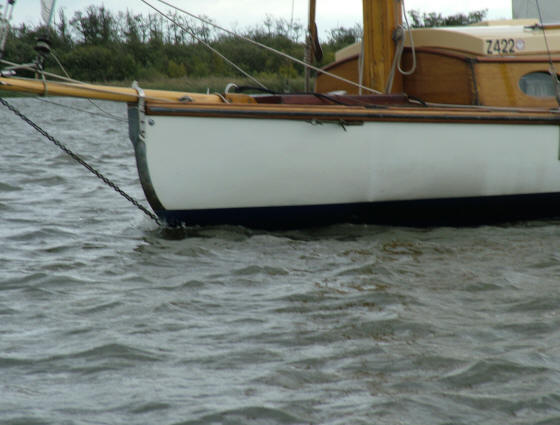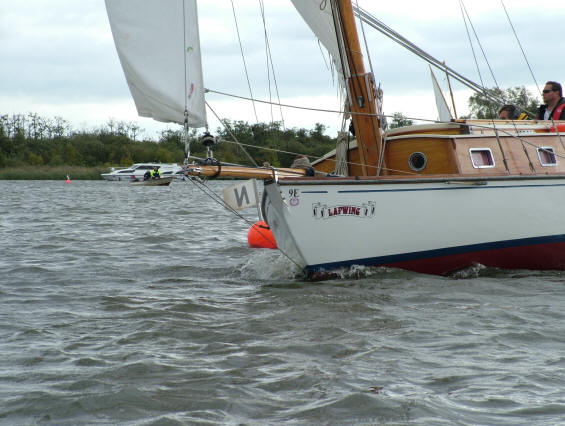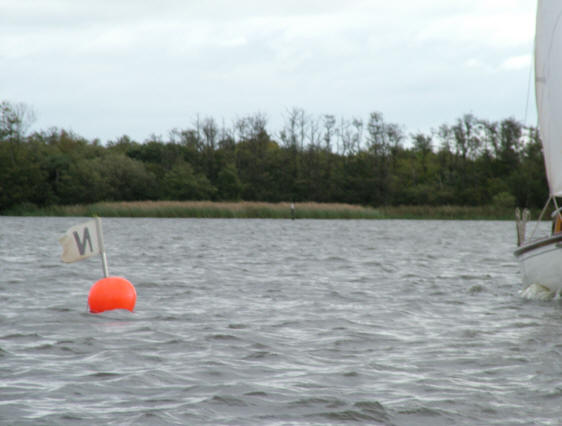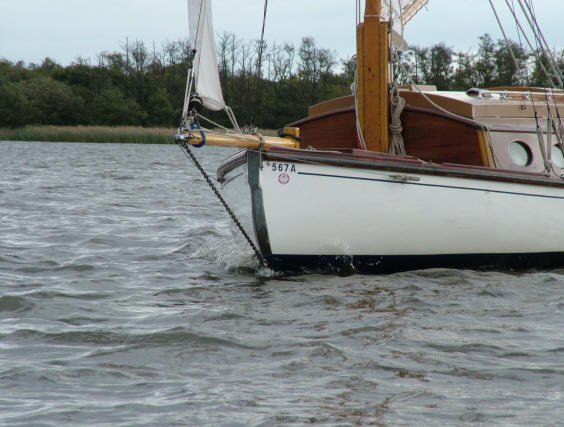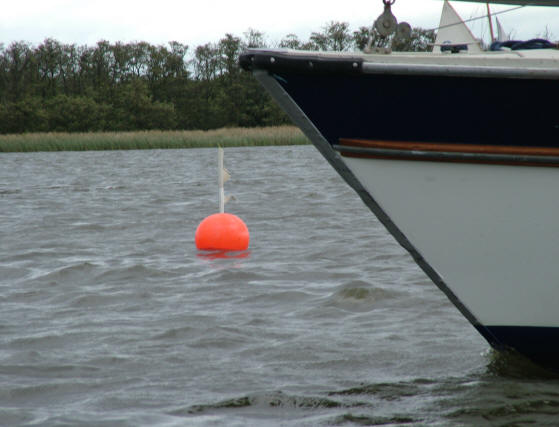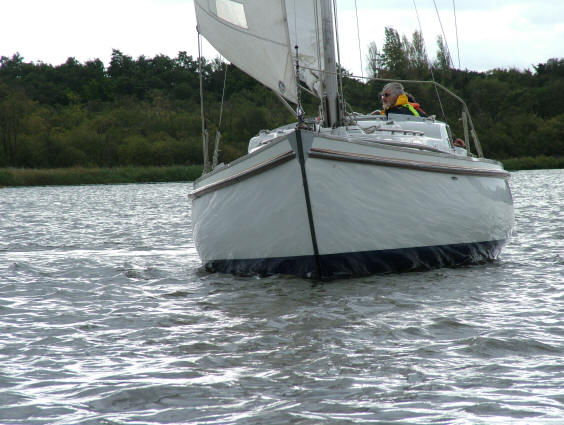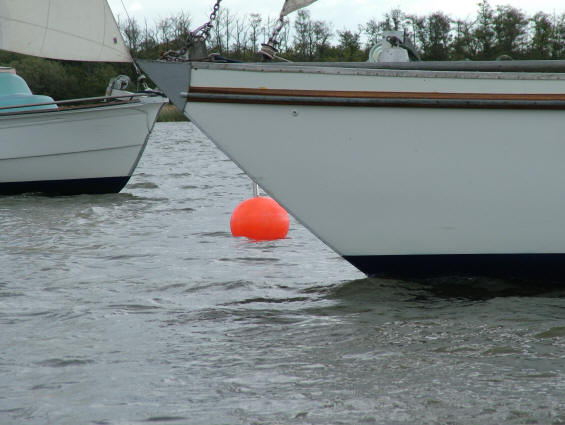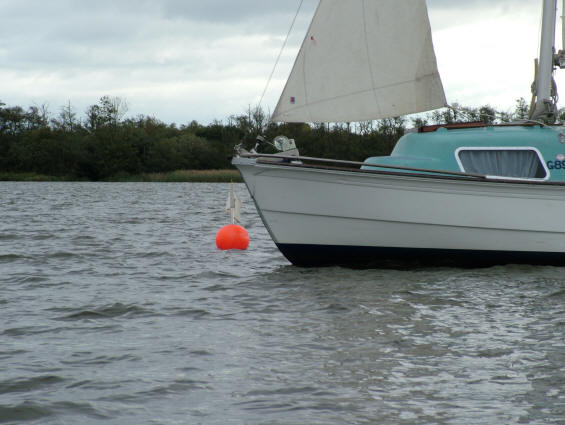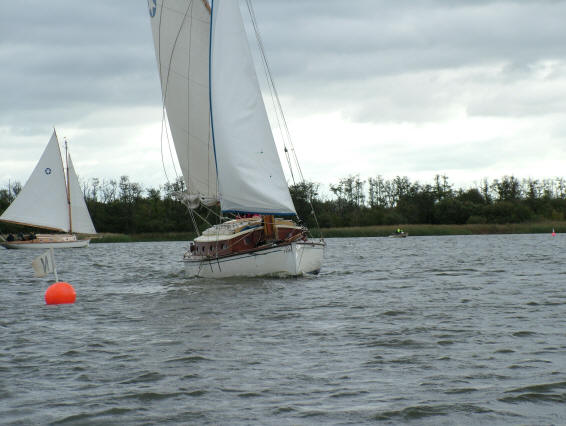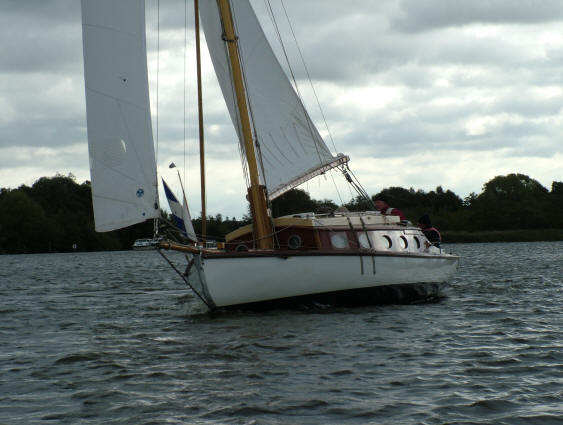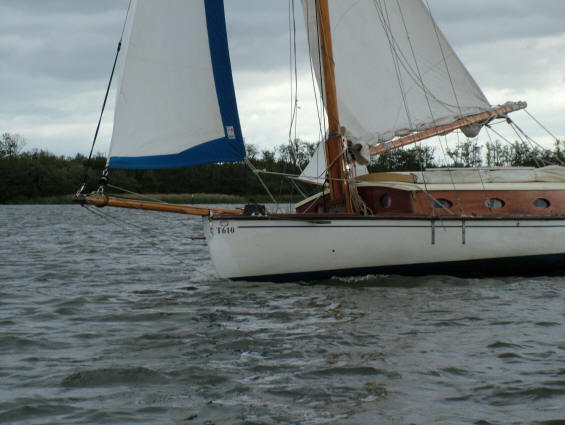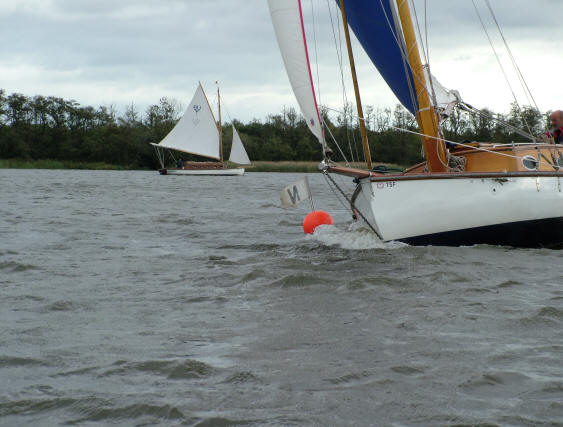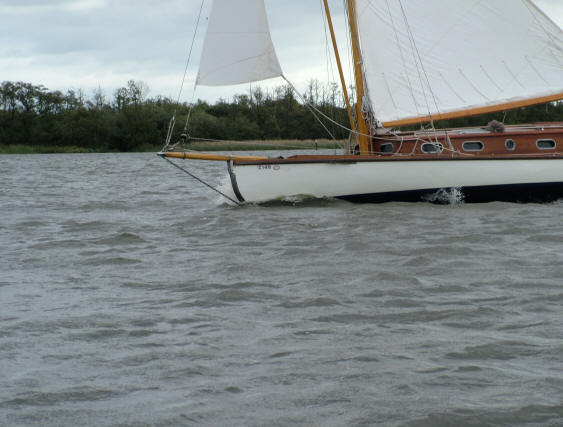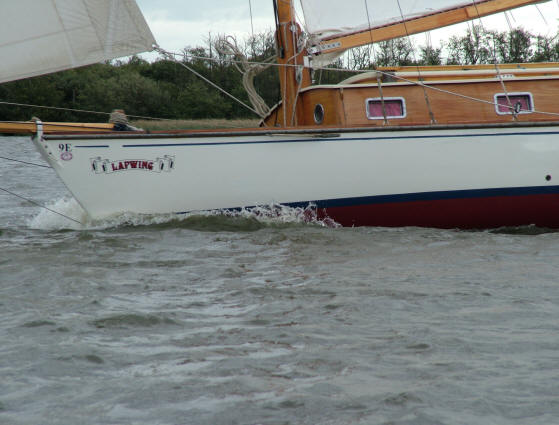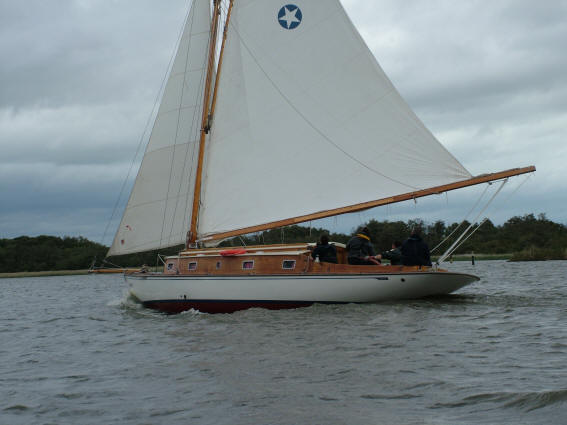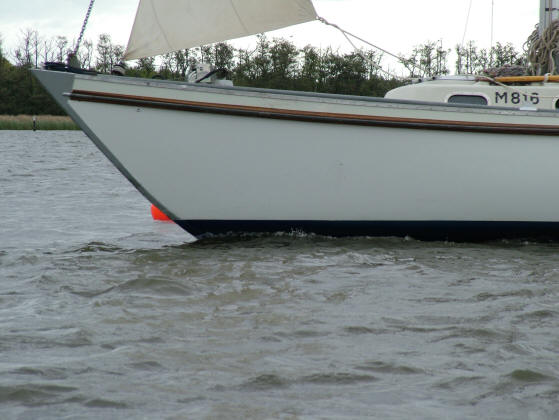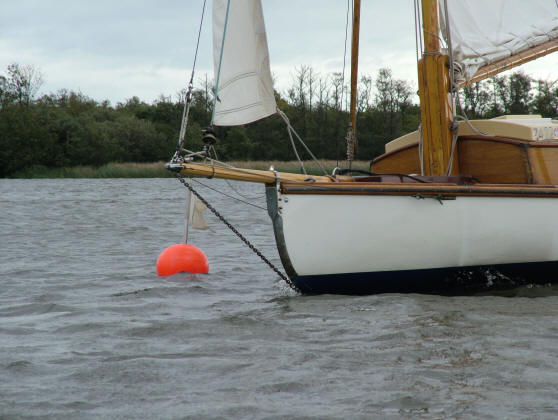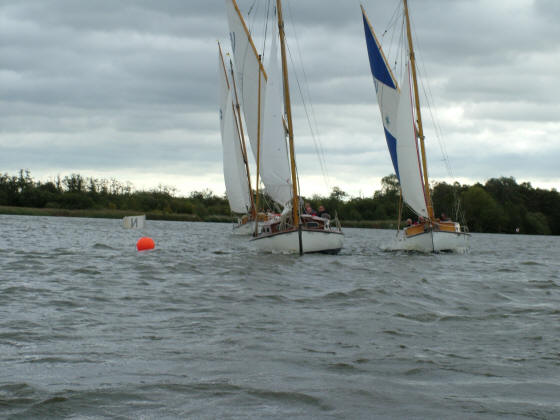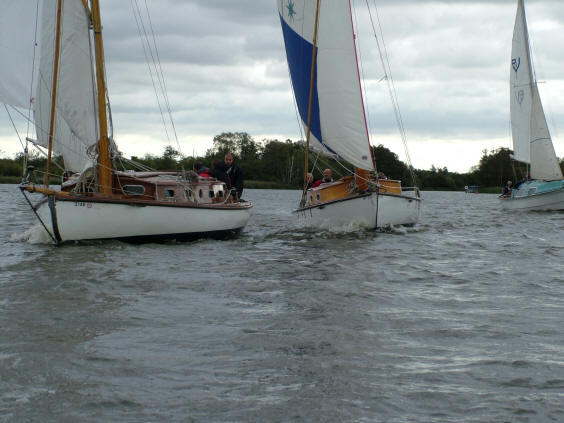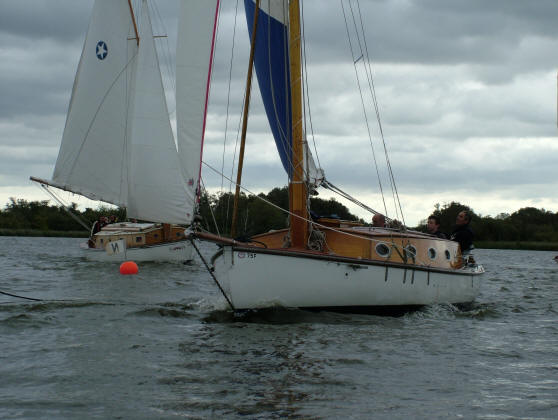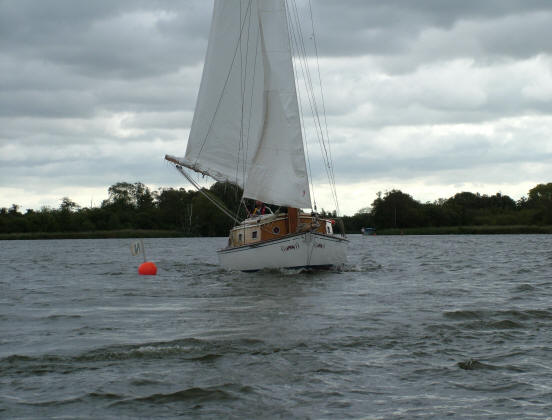 Next is the Start of the last race of the day - wind has changed through over 90º and now is coming from the North - - - -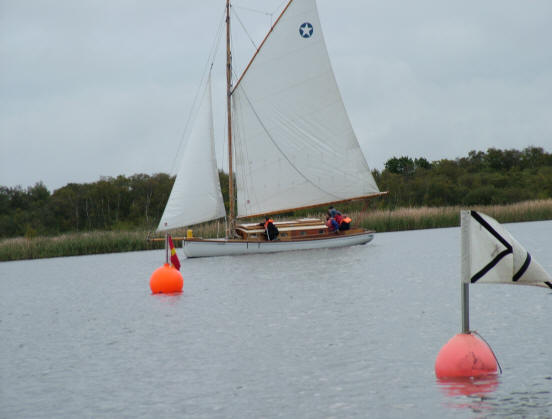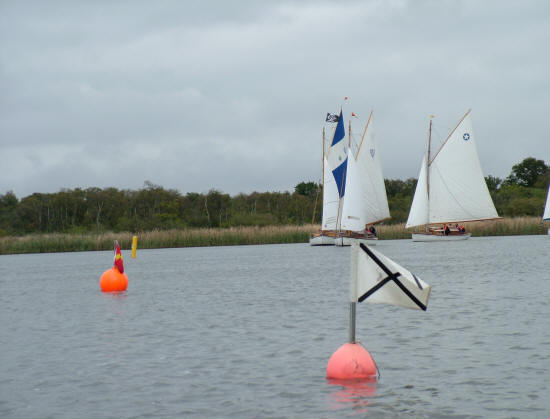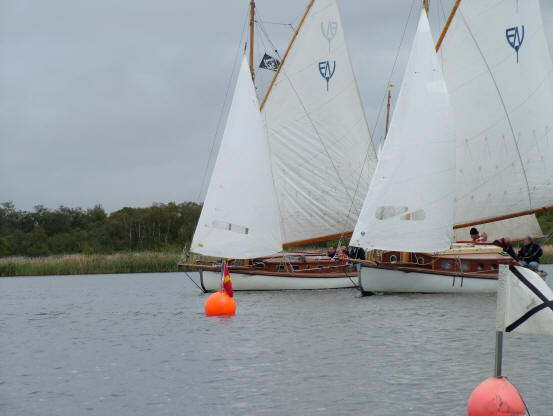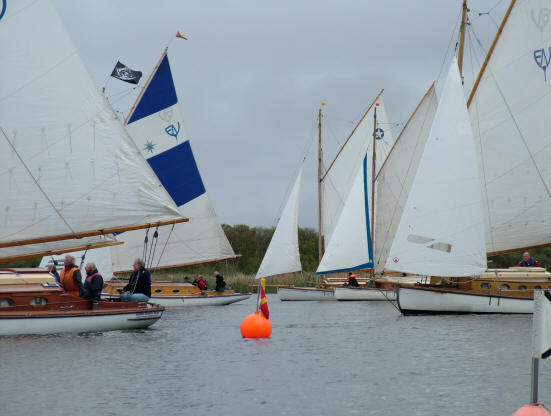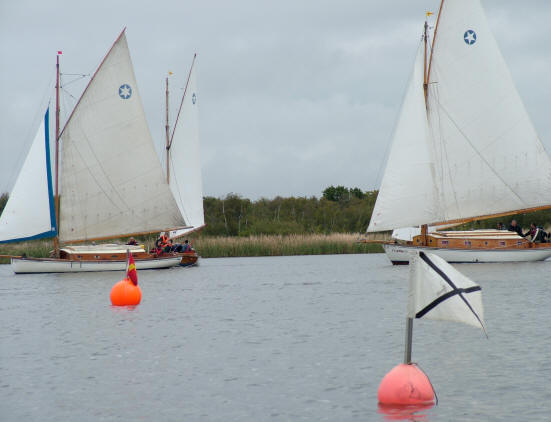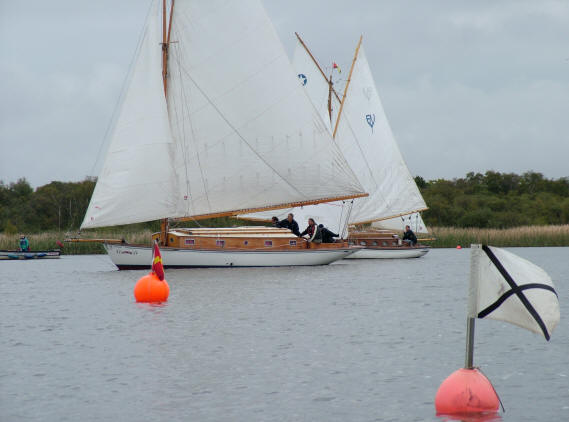 And spectator no 1??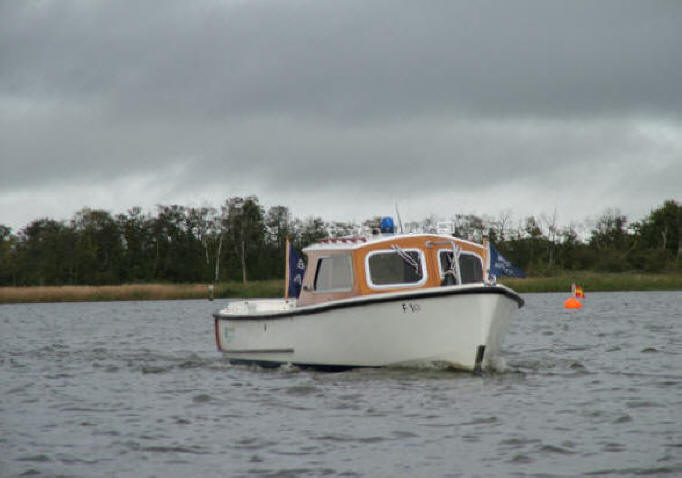 ---
Wednesday Started wet with little wind then dried for a while followed by heavier rain for most of the afternoon ~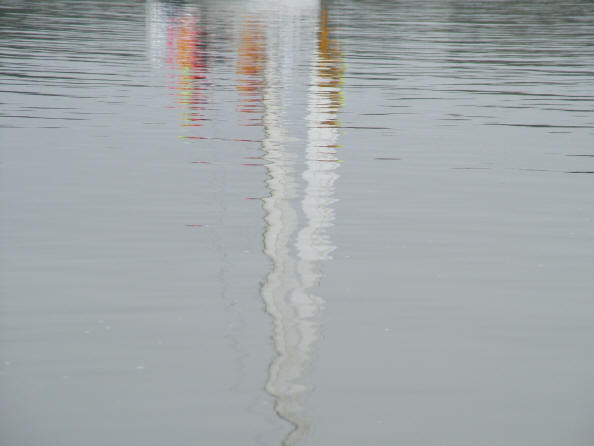 So - First the puzzle - guess which boat ~
No wind just a reflection - not what is indicated by the name
Larger pictures next to show reflections - little wind some of the time
Now a selection of the few pictures I was able to get between the periods of rain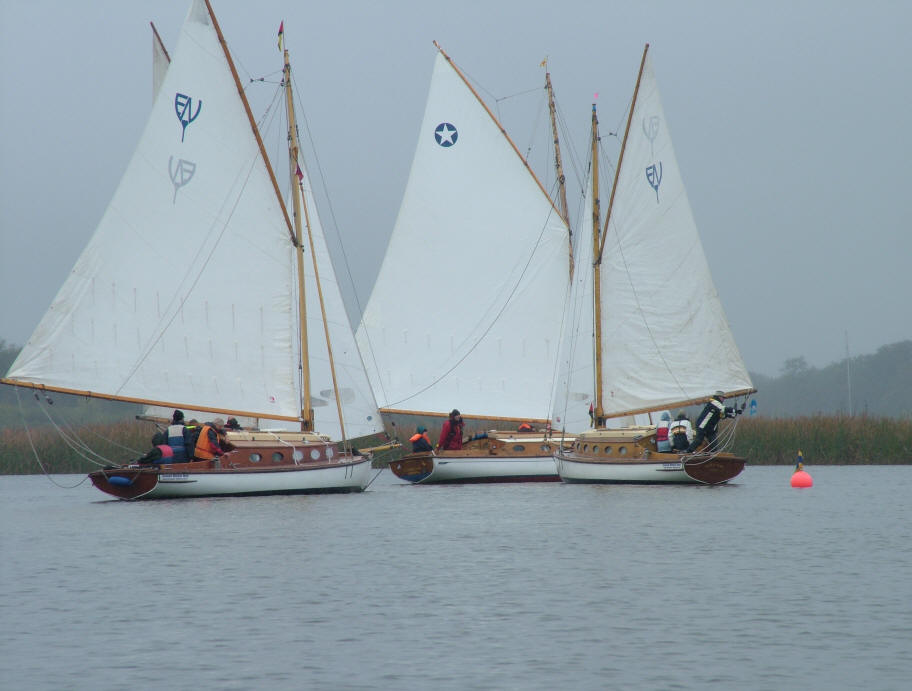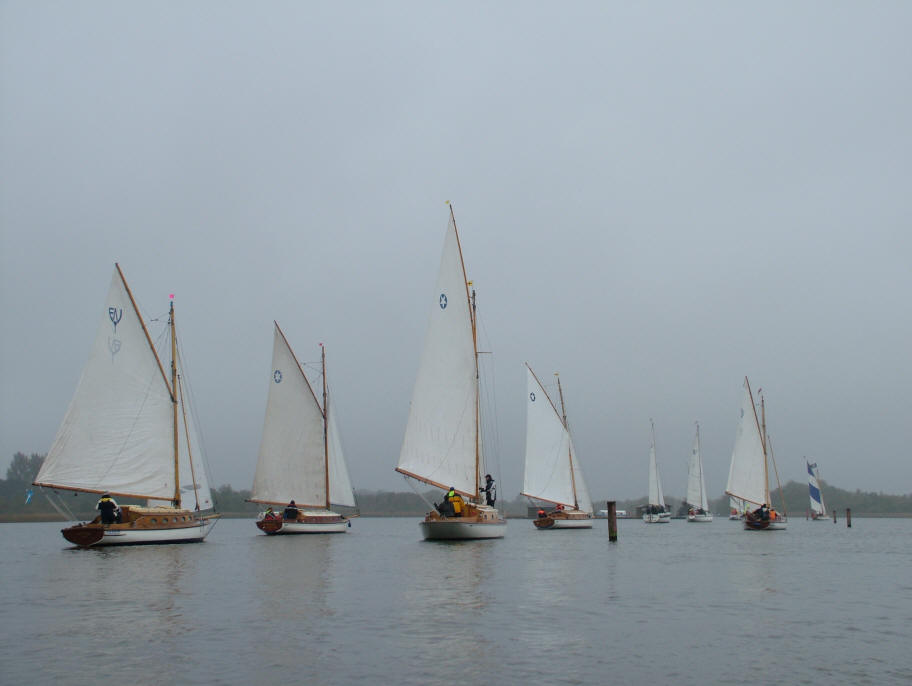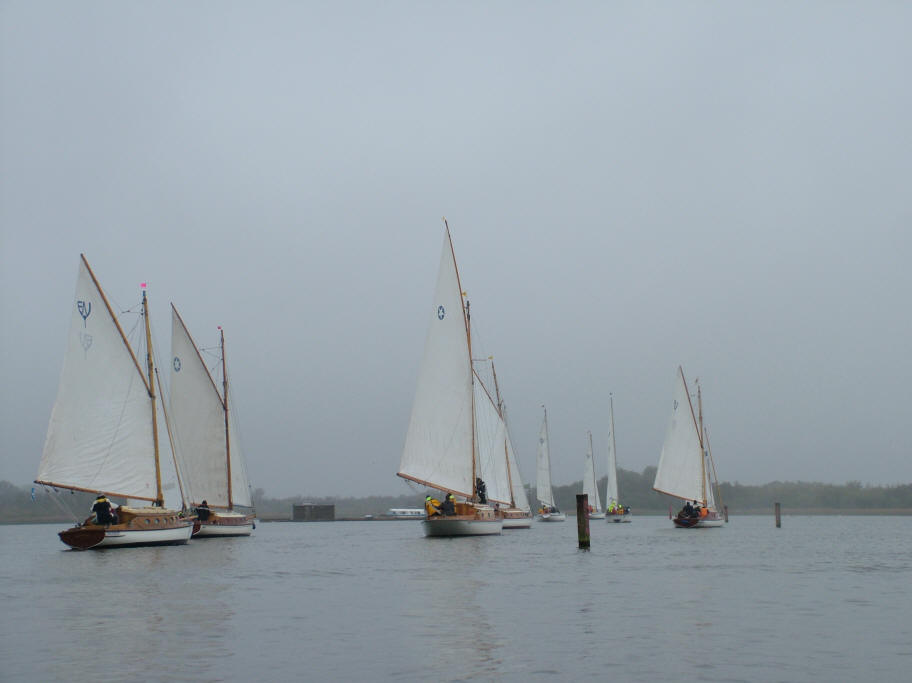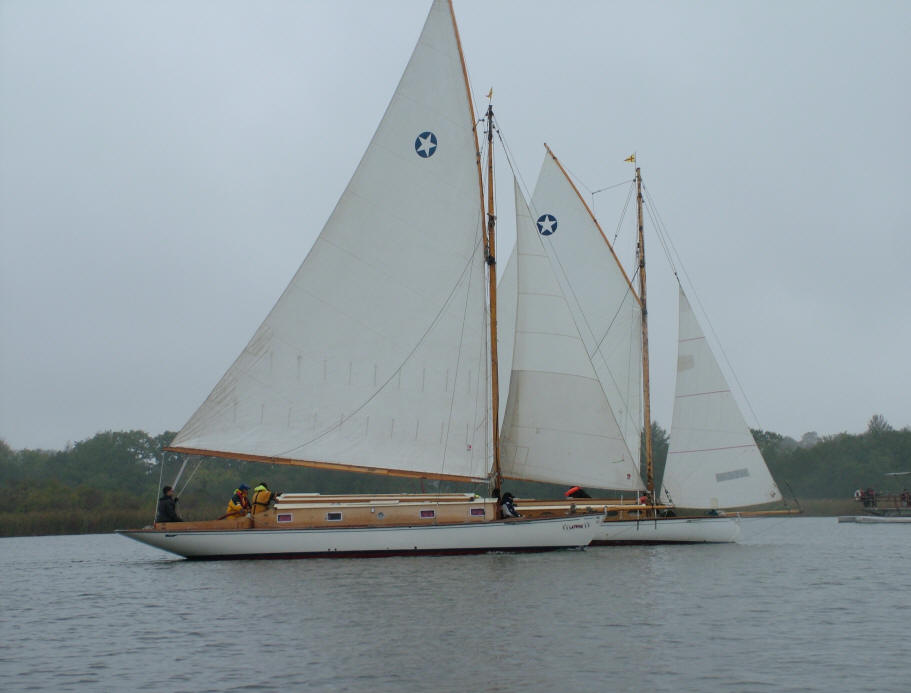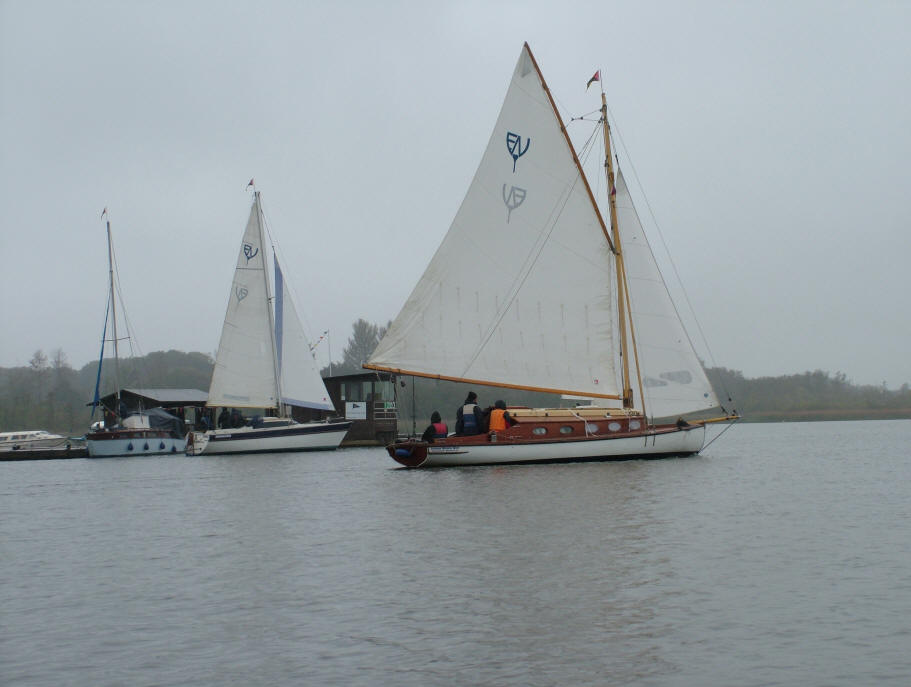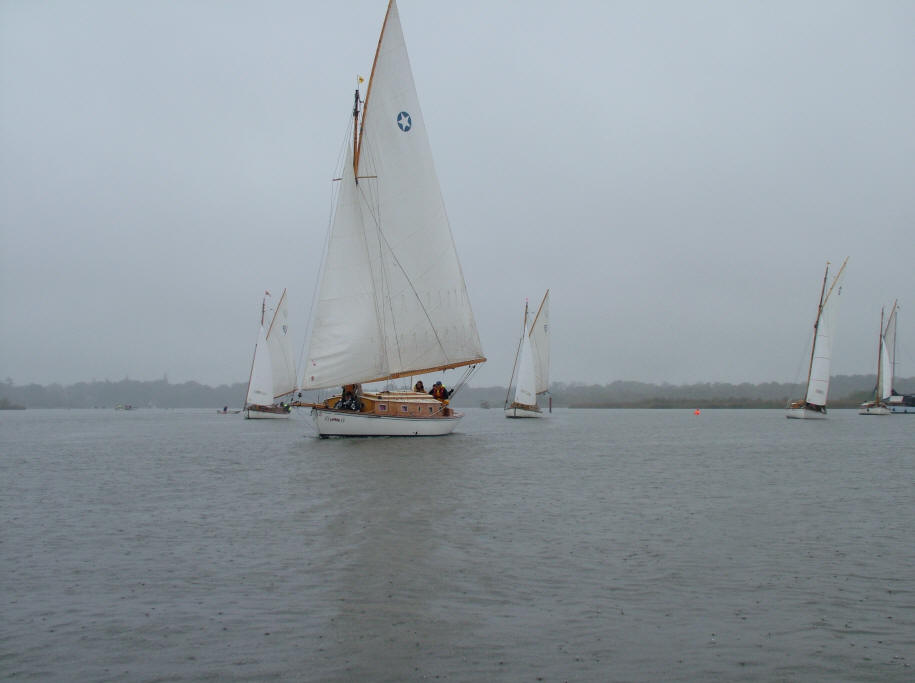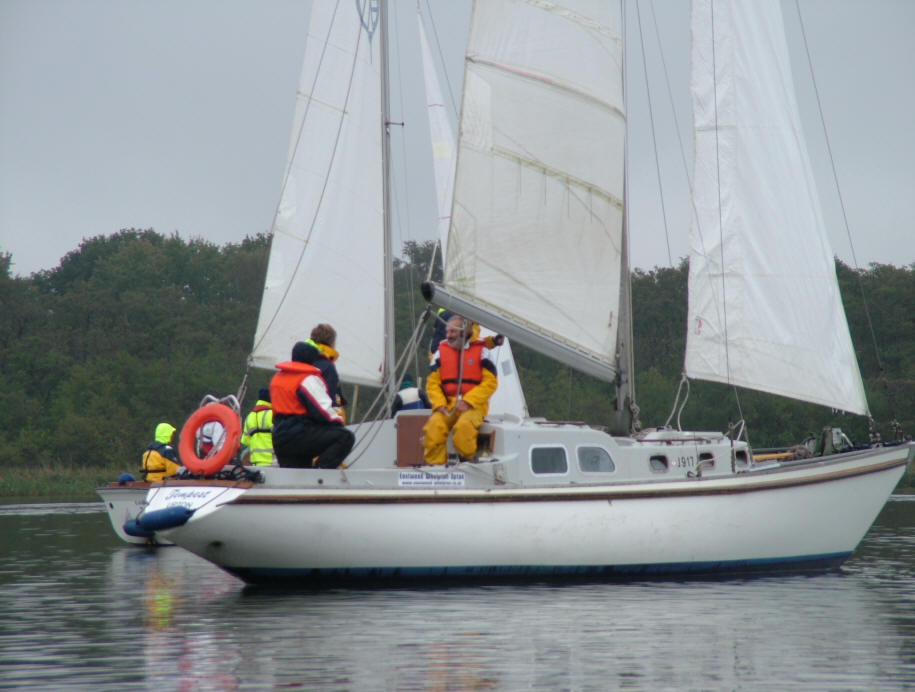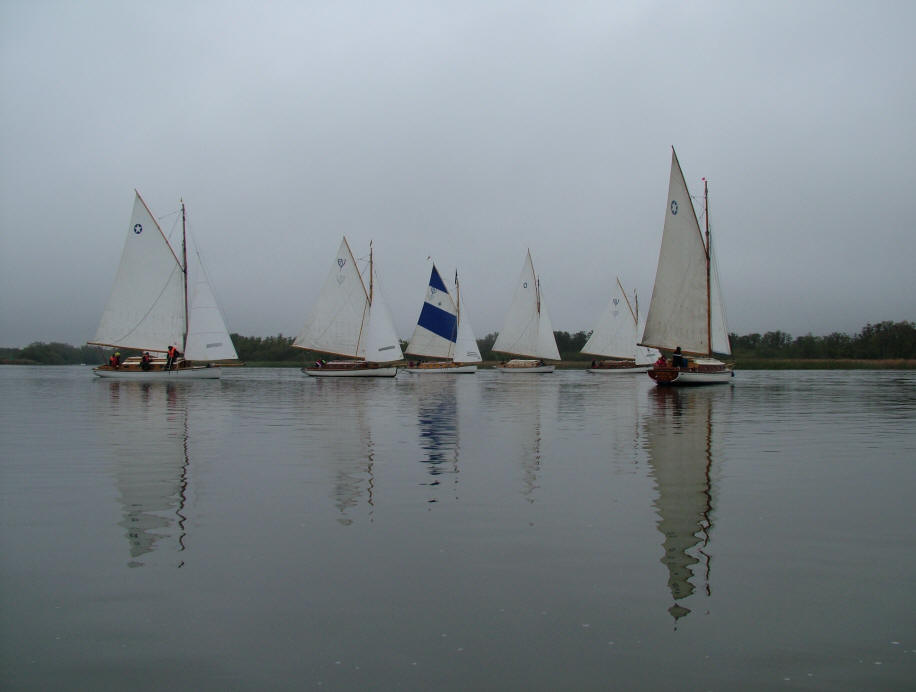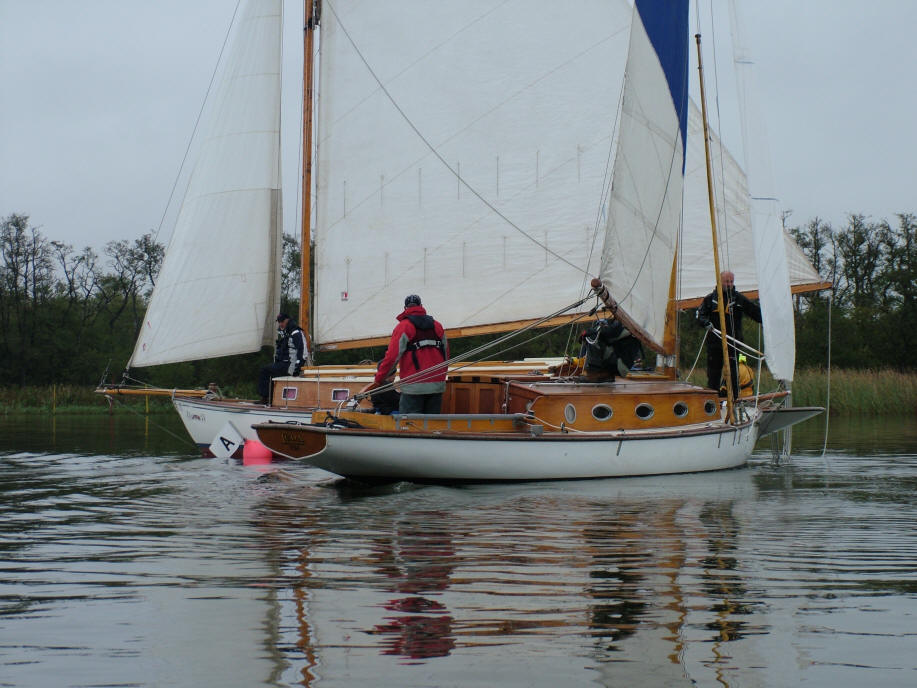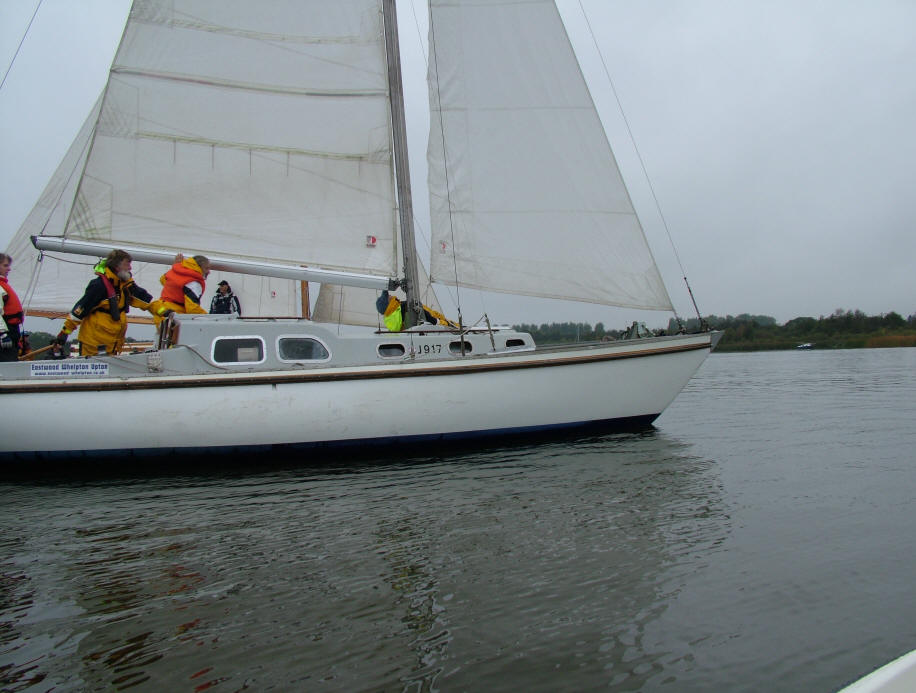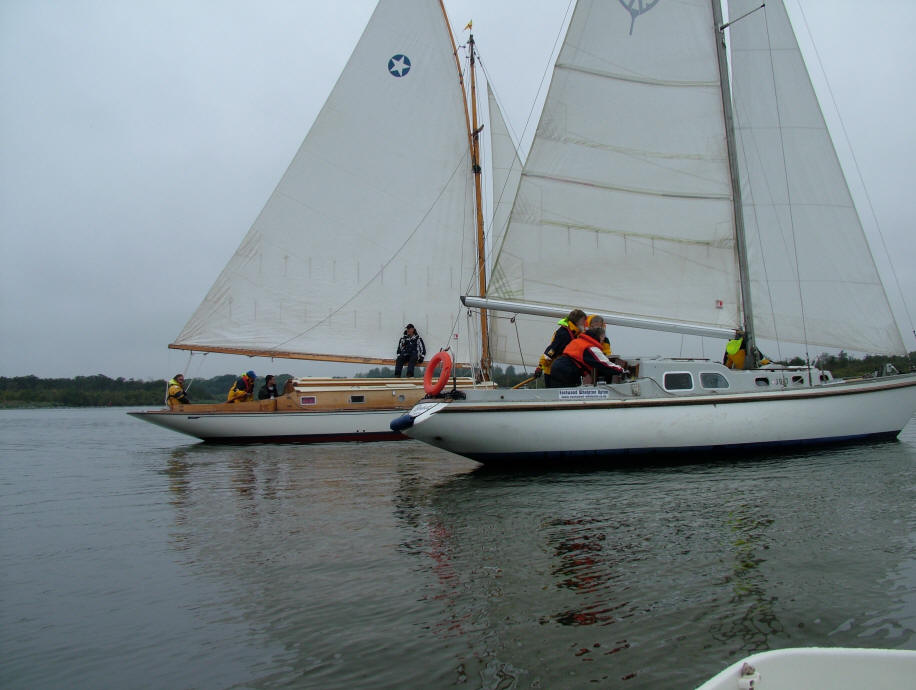 ---
Thursday - Warm(ish) with a light wind - a selection of pictures follows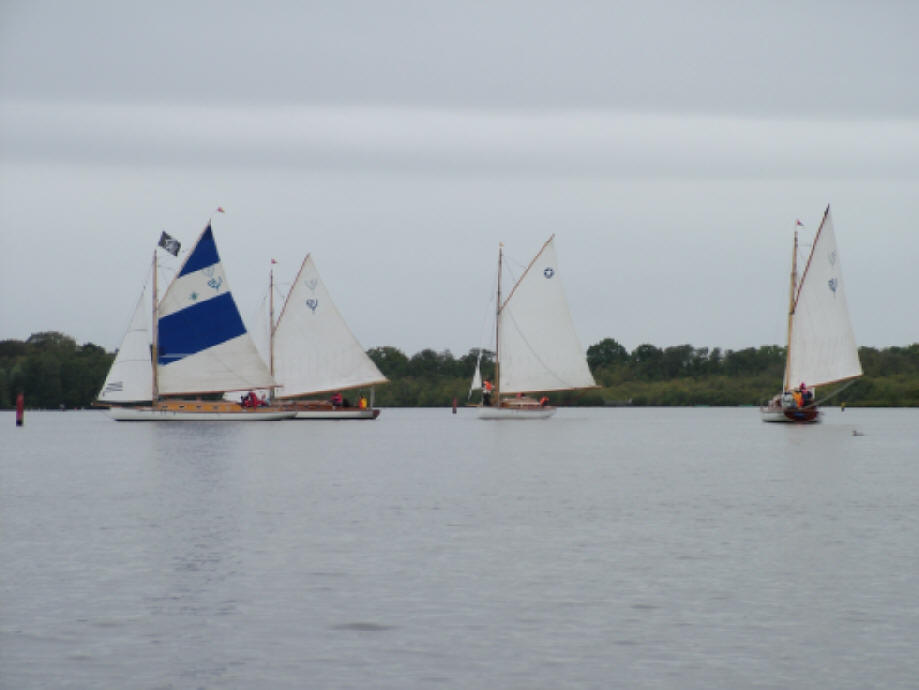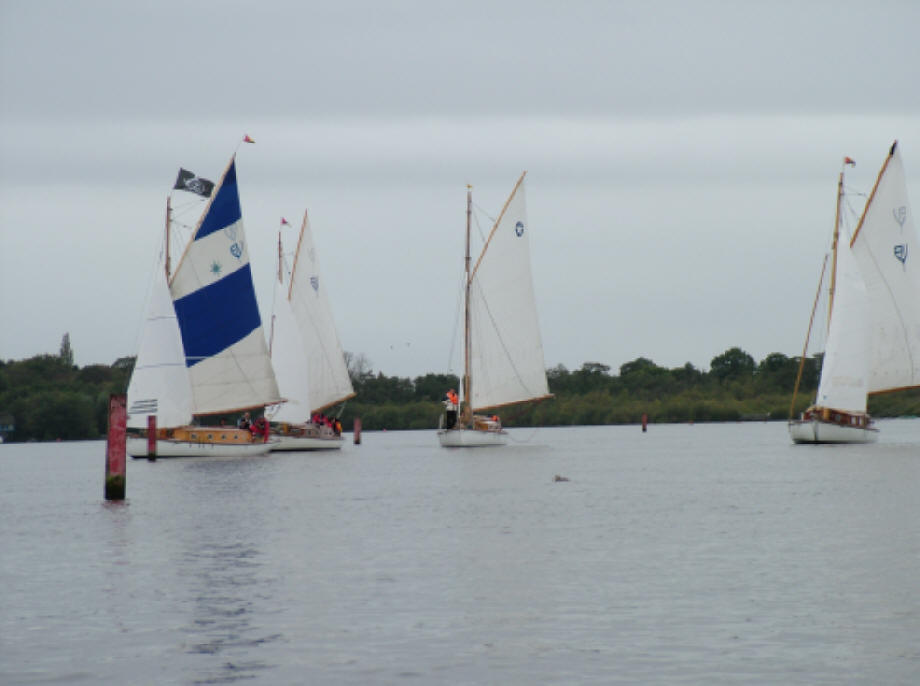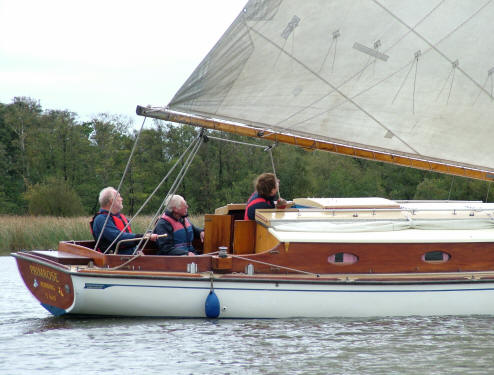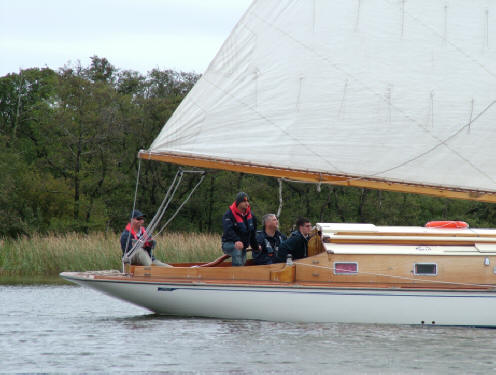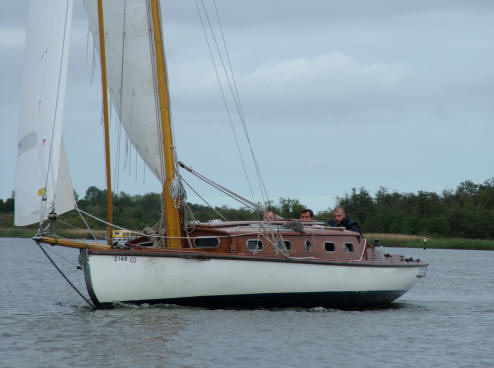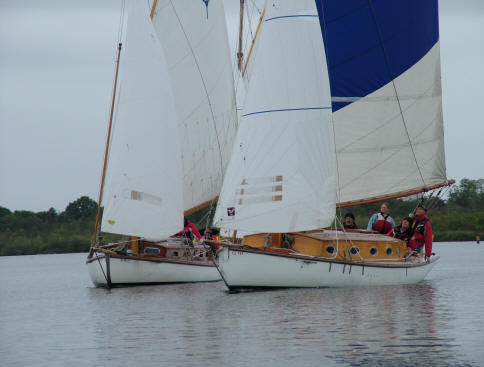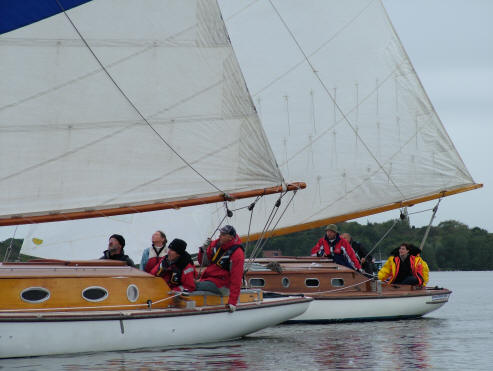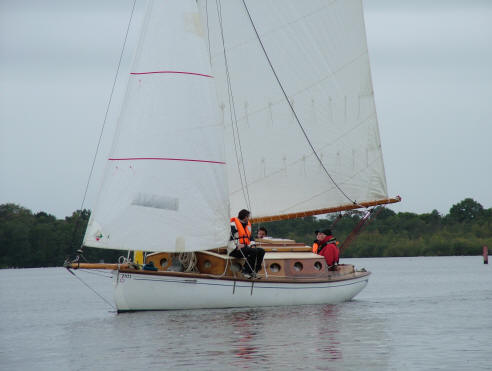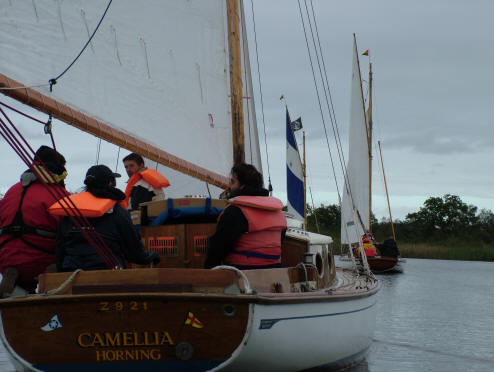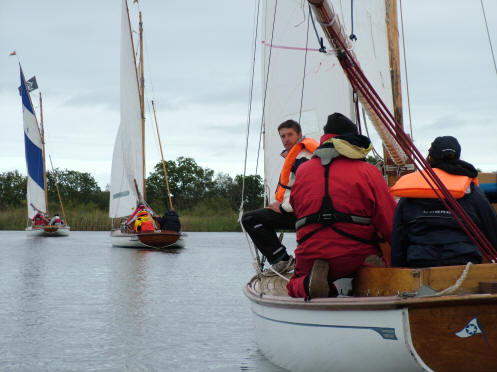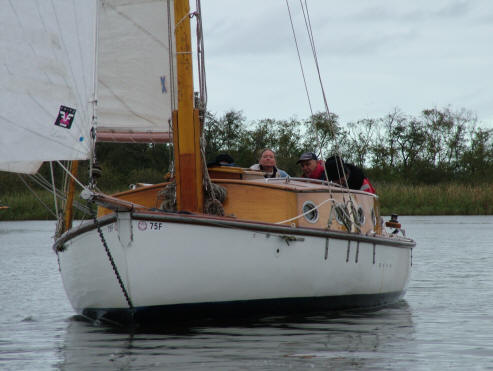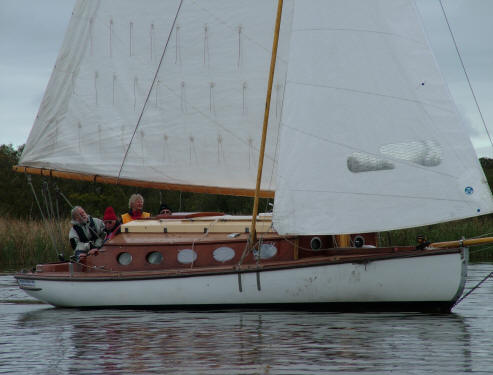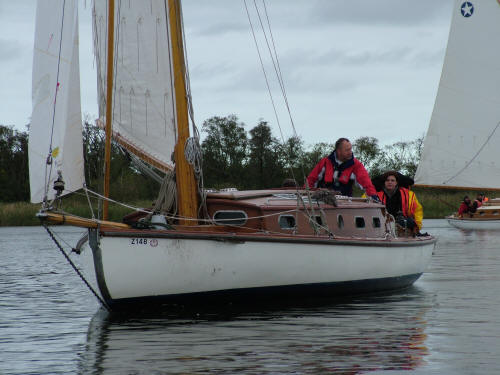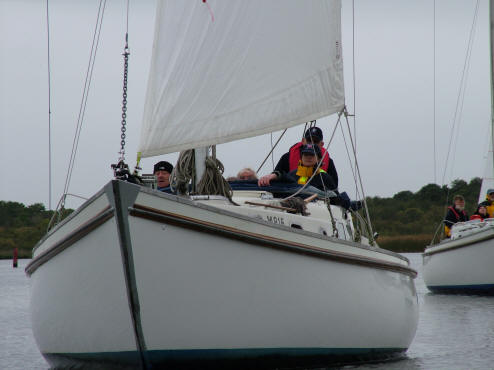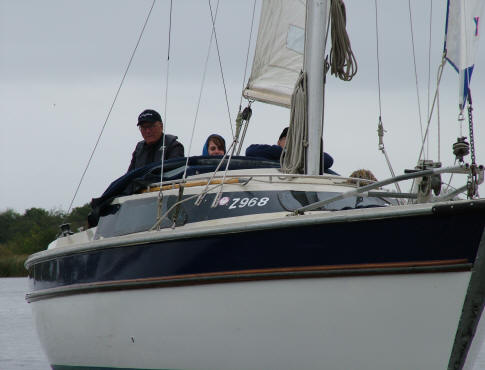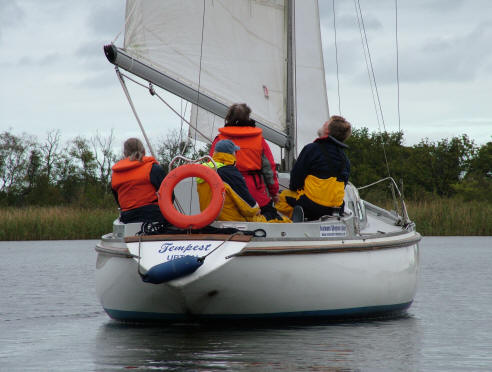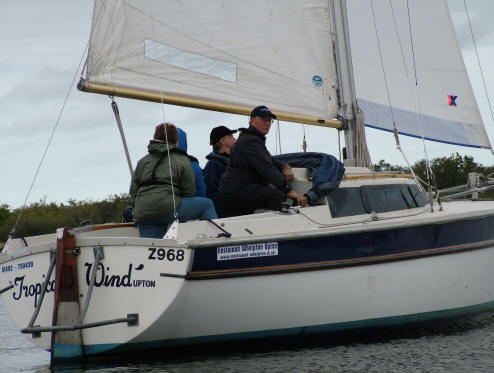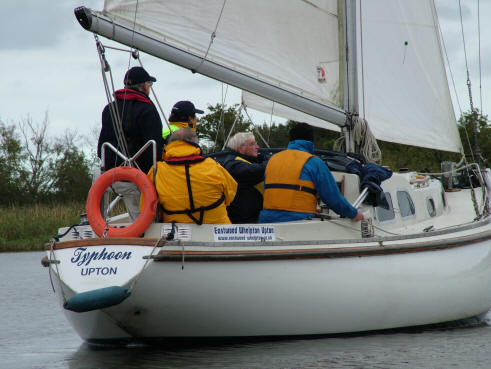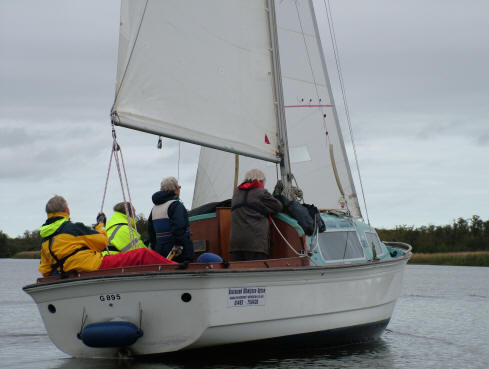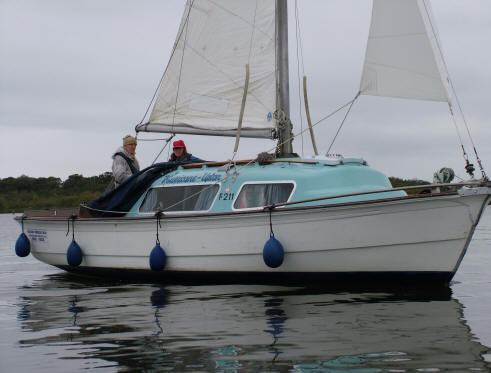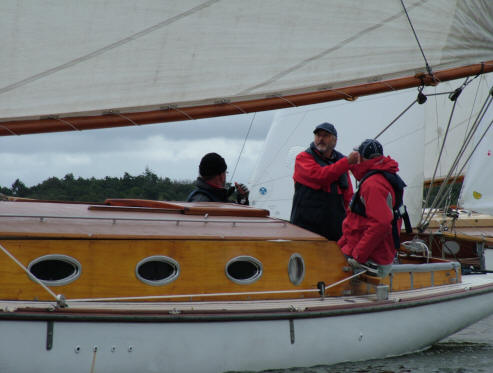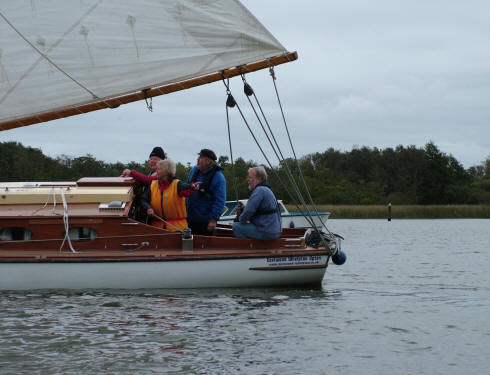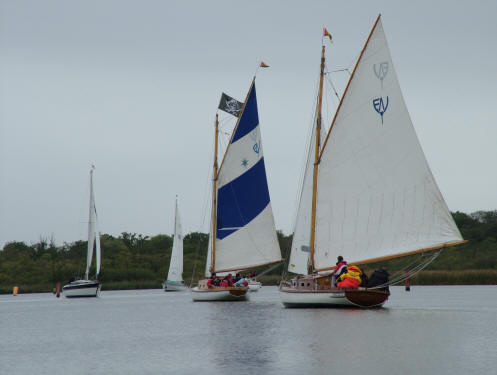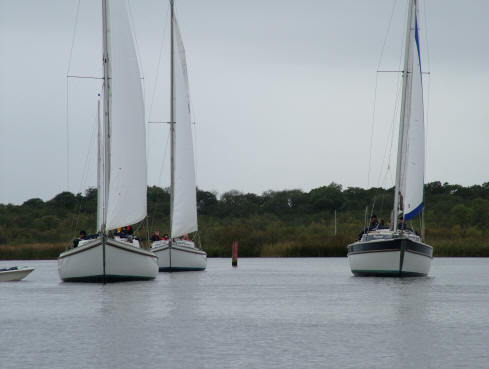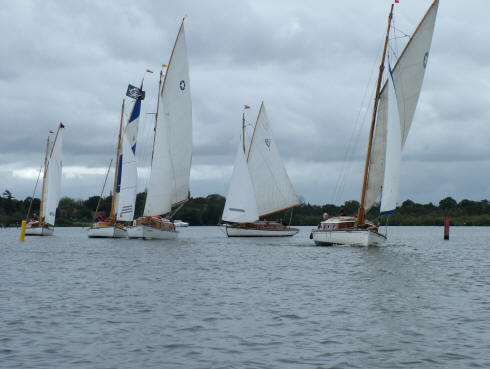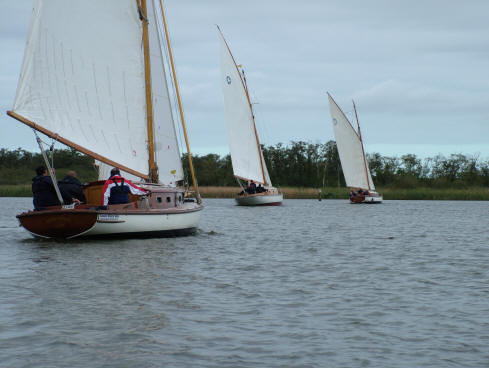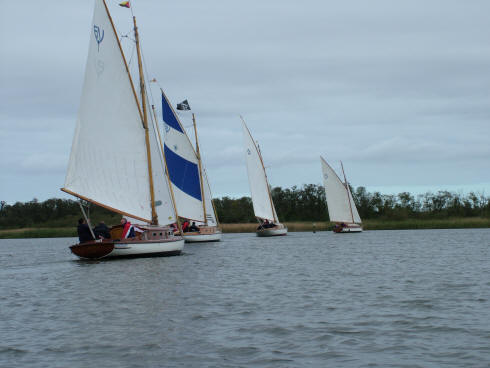 ---